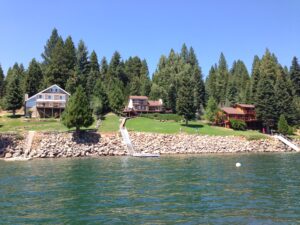 Lake Almanor is beautiful, there's no doubt about that. Its pure blue water under the mountain sky means lakefront property here is as prized as it gets, both in the winter, when it's close to freezing, and in the summer, when it provides cool refreshment for swimmers and a fun place to play for water sports enthusiasts.
However, water is a known hazard. Thousands of people die from accidental drowning each year worldwide, and as a large body of water, Lake Almanor must be treated with respect to safety. Things to keep in mind are:
–       Make sure everyone in your family knows how to swim. If anyone doesn't, the Central Plumas Recreation and Park District offers swim lessons from beginner through advanced.
–       Make sure as many family members as possible have basic rescue training (including CPR). Again, the CPRPD offers classes on this training.
–       Always supervise children. Do not trust a child's life to another child.
–       Never swim near where boats operate.
–       Never swim alone, or at least always notify a family member when going out to swim, so someone knows you're in the lake.
–       If a child is missing, check the water first. Seconds count in preventing death or disability.
For further reading on water safety, see these webpages:
American Red Cross – Swim Safety
CDC – Unintentional Drowning: Get the Facts
Whether you're looking for Lake Almanor lakefront homes for sale or just looking to spend a vacation by Lake Almanor, please keep in mind that our lake, while beautiful, is also a large body of water in nature, and is not immune from the realities of proper safety.
Please enjoy safely!