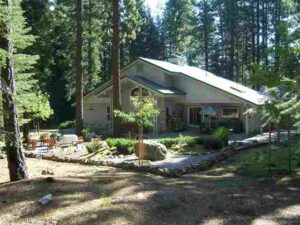 Plumas County is a beautiful place to call home, and one of our favorite spots in the area is the little town of Chester, CA. Our homes for sale in Chester offer the perfect location for enjoying some of Northern California's most spectacular scenery, resplendent with beautiful driving tours and hiking trails, near birding byways and in the heart of and simple, rural community living. Located at the base on Lassen Peak and on the shores of Lake Almanor along State Route 36, Chester is the main business hub for Lake Almanor Basin, which makes it both convenient and attractive.
Martin Ranch Community
Chester hosts the Martin Ranch community which lies in a pristine meadow off Feather River Drive, the route to the little know "back entrance" to Lassen Volcanic National Park, Drakesbad Guest Ranch, Juniper Lake and Mount Harkness. Many of the area homes are on full acre lots, zoned for horses and with creek frontage. With direct access to the conveniences of the town of Chester, Martin Ranch is a popular place known for its beauty and nature.
Warner Valley
Warner Valley is close to the Martin Ranch community, accessible by the short trip up Feather River Drive. It is a great place for those who love the atmosphere of meadows and forests. There are tons of opportunities to go out on hikes, camp, or even go fishing. It is a great place for a family to grow together.
The South Entrance to Lassen Volcanic National Park
Beautiful acreage, houses and cabins can be found on the route used to the southern entrance to Lassen Volcanic National Park with Kohm Yah-mah-nee Visitor Center using Hwy 36 East into Tehama County.
Running along the Volcanic Legacy Scenic Byway, this route has views of Butte and Carter mountains and is among the most scenic roads in North America. The beauty that is seen on this drive is enough to show how great this community is to live in within the area of Northern California.
Homes in Chester
Please feel free to browse our homes for sale in Chester, CA ­– take a look at some of the finest residences in one of the most beautiful places in all of California. We look forward to hearing from you and having the opportunity to share this beautiful community with you!