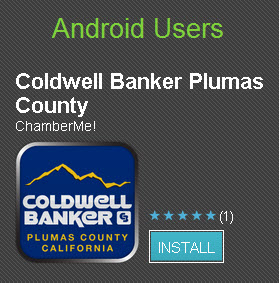 Where is the information tool that everyone is using?
It's in your pocket!
Mobile phones are the way of the future. And, the information brought to you by Coldwell Banker Agents about Plumas County Real Estate is now available on your phone.
A FREE App! Why is this important to you?
Because you want to know what is happening now, do it easily and find it where ever you are….just by reaching in your pocket. And, it is FREE!
Android Users, click on the Install button at the left and down load your Android App now. iPhone Users, just search for Coldwell Banker Plumas County at the iPhone App Store.