Quincy, in the heart of the Feather River Country, lies between Oroville, California and Reno, Nevada along Highway 70 near Bucks Lake. Quincy is the county seat of Plumas County and the hub of much county activity. Nestled within Plumas National Forest, and dissected by the middle and north forks of the Feather River this country is rich in gold mining, logging and railroad history and includes the towns of Beldon, Twain, Meadow Valley, Bucks Lake, Greenhorn Ranch and Sloat. With homes, farms, ranches, acreage, mountain parcels, recreation land and waterfront property, the Feather River Country features the peaceful, connected rural living to which many long to escape.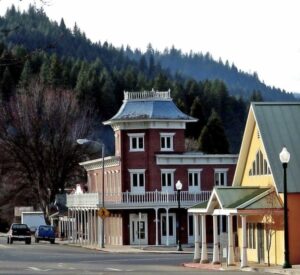 Excerpt from the Quincy Chamber of Commerce
"Nestled against the western slope of the Sierra Nevada Mountain range, Quincy, the Plumas County seat is tucked at the edge of the lush American Valley. Quincy, being the largest community in Plumas County, with a population of only about 5,000.
Quincy is known for its attractive downtown buildings that have been made the focus of preservation and restoration. The four-story courthouse building on Main Street is the county's most dominant and impressive structure (not the oldest). Built in 1921, it features marble pillars and staircase and a beautiful 2,000lb. bronze and plate glass chandelier (only part is still in use). The front and rear courtyards have expansive grassy lawns with benches for sitting areas which make it a favorite location for local events such as the Main Street Christmas Sparkle and Tree lighting.
This enchanting town features murals of historical times in Quincy. Quincy has built a strong commitment to the arts, with a number of drama, musical, art shows and gallery events being staged at the historic Town Hall Theater, which is operated by the Plumas County Arts Commission (530-283-3402) and at the newly opened West End Theatre, owned and operated by Earl Thompson and Edie O'Connor.
Quincy has long been known for its historic buildings. A self-guided walking tour of Quincy homes and buildings rich in history is available through a Heritage Walk booklet available at the Plumas County Museum, located behind the courthouse, where the three to four block tour begins.
A Community College is located .5 miles from town – Feather River College – which is a two-year college located in a mountain setting overlooking the splendid valley.
Quincy is the home to the Plumas-Sierra County Fairgrounds, known to be the cleanest and greenest in the State of California. The fairgrounds hosts a number of main events including: The Annual Easter Egg Hunt put on by the Soroptimists International of Quincy, The Old-Fashioned County Picnic, held in June, which features a pancake breakfast, softball tournament, music, BBQ foods, a classic car show and chili cook-off – just to name a few. The Plumas-Sierra County Fairgrounds also hosts the State's oldest County Fair in the second week of August. Some of the events include: The Midway of carnival rides, games and food, 4-H and FFA shows, Star entertainment, car races and much, much more!"