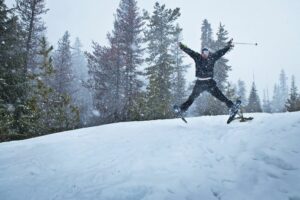 Why do we love living in Plumas County during the Winter? We love the natural beauty of our mountains and stream, playing in the great outdoors, our local culture and events and so much more!
Whether you want to ski, downhill or cross country, snow shoe, or snowmobile, our snowy Northern California slopes have it all.
Here are some of the great things that you can do during winter in Plumas County:
Coppervale Ski Hill
Come to the Coppervale Ski Hill, located west of Susanville and 19 miles from Chester. There are ski trails for all levels of skiers, as well as bowl, face and a new terrain park, perfect for skiers or snowboarders. Plus, you can also enjoy cross country skiing through the beautiful forest wilderness.
Eureka Bowl
This magnificent, historic skiing area is owned by the Plumas Ski Club, which is found in Plumas-Eureka State Park near the city of Johnsville. It is thought to be the first American ski lift. For additional excitement, the company is now building a new ski chairlift, and there is also a lodge with a café and plenty of amenities (including longboard activities).
Snowmobiling in Plumas
Many people enjoy riding snowmobiles through Plumas County in the Lassen and Plumas National Forests, so they can race around on frozen lakes or up a mountain, or cruise the majestic forests for an afternoon. Plus, snowmobilers can head to Lakes Basin Recreation Area or choose to go to Buck's Lake, or La Porte, or perhaps the Butte Meadows – all of these are in the area, and have lots for tourists to do.
Annual Winter Events not to be missed!
Christmas Tree Cutting starts November 1, 2014 – www.fs.usda.gov/lassen, www.fs.usda.gov/plumas
Lake Almanor to Indian Valley Holiday Shopping Tour November 7-9, 2014 – mountainaffairs.com
Chester Merchant's Night & Light Parade, November 28, 2014 – mountainaffairs.com
Taylorsville Holiday Craft and Light Parade, November 29, 2014 – mountainaffairs.com
Mohawk Community Art Faire, November 28-29, 2014 – PlumasCounty.org
Quincy Main Street Sparkle, December 5, 2014 – VisitPlumasCounty.com
Santa Book Signing, Books & Beyond, Chester, December 12, 2014 – bbbsellers.com
Annual Ice Fishing Tournament, Lake Davis, Feb. 7, 2015 – 420incfishing.com/
Snowdrifters Poker Run, February 2015 – buckslakesnowdrifters.com
Annual Chilly Chili Cook-off, Chester, February 14, 2015 – LakeAlmanorArea.com
Annual Snowmobile Poker Run, Lake Almanor, February 14, 2015 – LakeAlmanorArea.com
Historic Longboard Revival Race, February 14, 2015 – PlumasSkiClub.org
Snowshoe Hikes with Lassen Volcanic National Park Rangers Feb – March 2015 – www.nps.gov/lavo