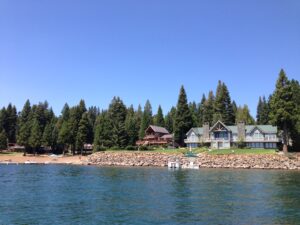 Are you looking for beautiful property for you and your family? Consider Lake Almanor lakefront real estate. Whether you are looking for a property to have as a vacation rental, or are looking to live in beauty year round, these lakefront properties are the best!
Why invest in Lake Almanor real estate, in particular the lakefront properties? There are plenty of reasons, but here are some of our favorites…
Beautiful Views
If there is one thing Lake Almanor is known for it is our spectacular lake and mountain views. There is nothing quite like waking up in the morning to enjoy the sun glint as it hits the water. With the lake and mountains surrounding your home, you can enjoy the best of both worlds. Magnificent Northern California mountain air and spectacular sunsets, majestic views of Lassen Peak, Brokeoff, Carter and Dyer Mountain and night skies that blow your socks off. What more could you want in your Lakefront mountain home?
Access to Water
Whether you want to hit the water to fish, kayak, paddle board, wake board, or cruise on a wake board, we offer easy access with every lakefront property. The entire reservoir is out your back door. Most lakefront come with their own dock and buoys. Ramp access to launch your water toys are at our several lake side marinas and our public boat launch at the dam. And the good news is that in these years of drought and California reservoirs with little to no water, Lake Almanor remains one of the few lakes in Northern California with ample water.
Long-Term Value
The most important aspect of purchasing a lakefront property on Lake Almanor is the long-term value investment you will be making. Whether you will live in the property year round, make it a vacation home or an asset to rent out as a vacation rental, the investment that you make today will last for years and years to come.
If you are ready to make the investment of a lifetime, be sure to contact our staff today. We will help you make the best choice for your life, time, and money.