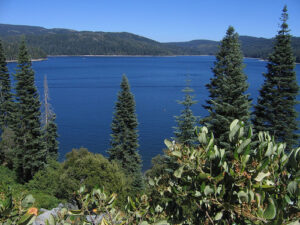 It's no secret that Plumas County features some of the most spectacular country living in all of Northern California. Located along Highway 70, Plumas County real estate offers a rural lifestyle like no other. Known to be a sportsman's paradise, Plumas County boasts a rich wilderness, the snow covered peaks of the Sierra and Cascade Mountains, as well as 100 lakes and a 1000 rivers. Golf enthusiasts can also enjoy one of five 18-hole championship golf courses surrounded by picturesque mountains and pine forests. Central Plumas County in particular is among the best with paradisiacal communities like Quincy, Feather River Canyon and Bucks Lake.
Quincy is the county seat of Plumas County, and in 2013, Budget Travel named it #8 on its list of America's Coolest Small Towns. As of 2014, Quincy's population was recorded to be 5,789 people. The local economy is comprised of both a white-collar and blue-collar workforce. The commute to work for the majority of the residents is on average only 12.82 minutes, making it one of the shortest daily commutes compared to the rest of America.
Bucks Lake is located 17 miles southwest of Quincy and is the center of outdoor recreation. Here, activities are enjoyed all  year long. With winter sports like snowmobiling and cross-country skiing, the 75 miles of snow covered trails makes Bucks Lake a leading destination for snow lovers. And for photographers and history buffs who appreciate a strong railway history, Bucks Lake offers impressive bridges and tunnels, and the "Williams Loop" – an impressive mile-long loop crossing over itself to gain elevation.
Plumas County real estate offers living at its very best in the Feather River Canyon community. This area is one of the most popular scenic driving routes in the state. Enjoy an amazing drive through the rugged canyon walls as well as admiring the beauty of waterfalls and wildflowers. The Feather River provides whitewater rafting, kayaking, gold panning and much more.
Don't just take our word for it – browse our online real estate listings to get a birds-eye view of the market!
Or, if you have any questions, please feel free to call us today at any of our five Coldwell Banker Plumas County office locations!